Looking for Market Stall Holders for our Central West Car Club Inc. 15th Annual …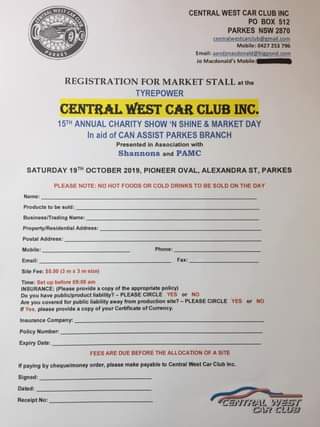 Looking for Market Stall Holders for our Central West Car Club Inc. 15th Annual Charity Show 'n Shine, held in Parkes at Pioneer Oval on Saturday 19th of October 2019.
Looking for stall holders such as –
sewing, craft and handcrafts, plants, tupperware, nutrimetics, bath and soaps and candle items, woodwork, jewellery, honey, olive oil, t-shirts, caps, sunglasses, belts, sand art, cakes, lamingtons, jams, lollies, display stands, etc.
Cost is only $5 per stall (3 m x 3 m) which will need to be paid before the event, then proceeds will directly go to Can Assist, Parkes Branch after the event.
No hot foods or cold drink stalls are required thanks.
PLEASE CONTACT Central West Car Club for further information.